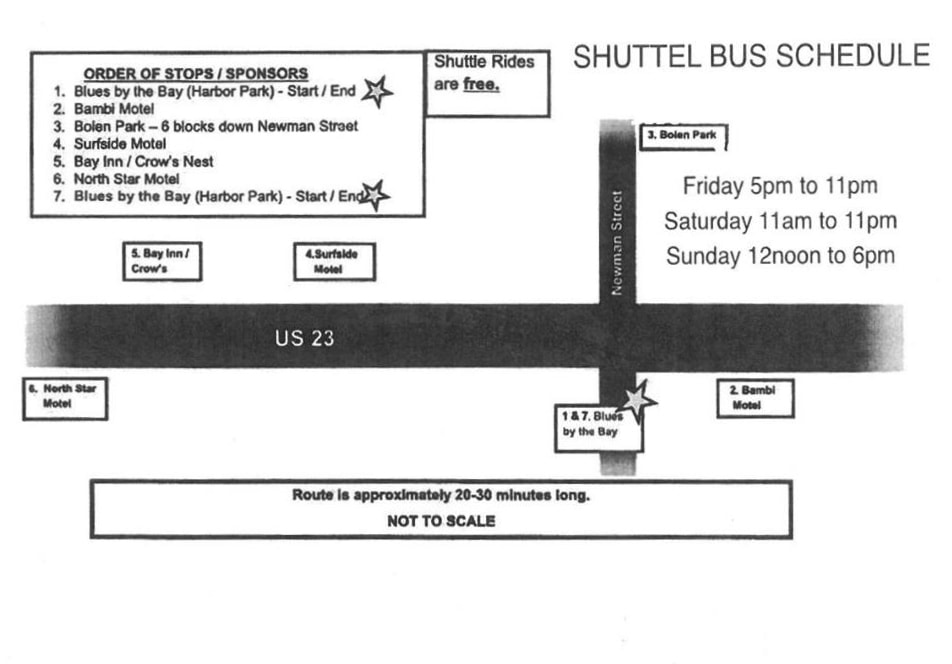 Important Information and Frequently Asked Questions
PERFORMERS:
The lineup for Blues by the Bay is now complete. We have our bands lined up beginning in January/February. For consideration, please submit your promo package to Blues By The Bay, PO Box 465., East Tawas, MI 48730 by the first of the year.
SPONSORS
:
If you are interested in becoming a sponsor for the hottest event to hit the Tawases, please send us an email at
tawasbayblues@gmail.com
. Blues by the Bay is presented by the Tawas Bay Blues Society (TBBS), a non-profit organization operated solely by a volunteer Board of Directors and volunteer members. We have a variety of sponsorship and "in-kind" opportunities available for supporting Blues by the Bay, and we would welcome your contributions. TBBS is dedicated to the promotion, awareness and preservation of blues music, and its culture. A variety of blues, Cajun, swing, and other blues styles are presented at the festival. Please join us in offering quality entertainment to the residents of the Tawases and visitors to our beautiful Sunrise Side community.
TRANSPORTATION:
The Iosco County Transit will be providing a FREE shuttle sponsored by Griffin Beverage and Alpena Beverage. Maps will be available at the front gate of the festival.
A copy of our shuttle map is also located on our
Facebook
page.
​
​FESTIVAL FREQUENTLY ASKED QUESTIONS1. What is the cost of admission?
A $25.00 souvenir button is your admission to all 3 days of the festival. (Children under 10 are admitted free!) No, we do not have a day pass.
2. Where IS this festival?
Blues by the Bay is held in the East Tawas Harbor Park at the intersection of US-23 and Newman Street, right next to the State Dock!
3. Where can we park?
Plenty of parking is available in and around the downtown East Tawas area. There will also be parking at Bolen Park on Newman Street. Just 6 blocks away from the festival and a shuttle stop.
4. May I bring a chair?
Yes, but you will only be allowed to bring 2 chairs in per person! Lawn chairs are allowed, they may not be recliners or have foot rests. Chairs cannot be left on the grounds overnight. You will be asked to remove your chair from its bag at the gate. Chairs are allowed in designated areas only. There is NO VIP seating.
5. May I bring my own refreshments?
ABSOLUTELY NO CONTAINERS OF ANY KIND WILL BE ALLOWED INSIDE. Beer, wine, water and soft drinks will be available for purchase under the Blues Big Top. Security will be checking ID at the gate.
6. May I bring my beachball?
Sorry, we do not allow throwing of beachballs.
7. How can I get more information?
Drop us an E-mail at
tawasbayblues@gmail.com
or become a fan on
Facebook- Blues by the Bay- East Tawas
.
8. What time will the festival open?
The gates will open one hour before the first band is scheduled to play.
9. How does Michigan going smoke free affect the festival?
Since we will be serving food and drinks, the festival grounds must be smoke free. The festival is treated like the other bar and restaurants in Michigan.
10. May I bring my pet with me to the festival?
Sorry, we do not allow pets into the festival.
11. Can I buy buttons ahead of time?
YES! Buttons are located around town and the following businesses: Klenow's Market, Ben Franklin, Village Chocolatier, G's Pizzeria, Kiteman Jack's, Tawas Chamber of Commerce, and Crossroads Citgo (55/65).
---